Blooming (開花, Kaika) is chapter 214 of the Beelzebub manga.
Years ago, Zenjūrō Saotome goes to meet Takamiya inside the latter's dark room. Saotome tells the child that he will be leaving to see the world, which he states is a big place.
Saotome reflects on these words that he once said to his elder pupil. As he smokes a cigarette, he stands high above Ishiyama High School, using a Zebul Emblem to levitate himself in the air. He states that he never understood what Takamiya truly desired back then but believes that his opponent, Oga, can provide an answer to the questions he asks.
On the rooftop, Takamiya senses a spiking growth of power within Oga; alarmed, he wonders how Oga could still be growing in power despite the fact that their fight has already gone on for some time. Afterwards, Oga reveals that he barely understood anything about Takamiya's dark past, and goes even further by calling him a "sulking brat", which both offends and irritates Takamiya. Oga further adds that he will take down Takamiya with Baby Beel's help.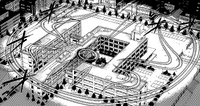 Oga then resumes their fight, summoning forth a massive Zebul Emblem in the sky above, triggering the King's Crest on three members of the Tōhōshinki whom have pledged their allegiance to him. The massive Emblem astonishes Takamiya who becomes even more worried when he discovers that Lucifer is immobilized by the mysterious technique; now aware of this fact, he becomes enraged, furiously attacking Oga. His attacks are fruitless against Oga, who swiftly strikes down Takamiya with powerful attacks. The power of his punch and kick bewilder Takamiya, who cannot comprehend why the fellow first-year can still have such power inside him.
Meanwhile, Saotome tries to comprehend the reasoning behind Oga's sudden power-up. He soon realizes that it is a creation from the conflicting uses of Oga's Crest Abilities and Black Techs, leading to the formation of a power which he describes as "annihilation energy". Saotome concludes that similar occurrences have happened before with Oga using the "Father Switch" for the first time against Jabberwock using Baby Beel, and that such a power has finally bloomed before his very eyes; knowing this, he states that Oga has created a unique technique for himself, as well as that Takamiya should not have tried to toy with him.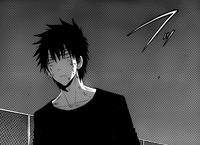 Suddenly, the massive Zebul Emblem above Oga dissipates and Baby Beel mysteriously disappears from his back. Oga frantically looks around for the infant Demon until he hears someone above him. When he turns to look, he discovers Himekawa and Udagawa standing above him, who are evidently responsible for the abrupt interruption in the fight.
Himekawa faces Oga and apologizes to him, stating that he can not afford for Takamiya to lose against Oga.

Characters in order of appearance
Edit
Ad blocker interference detected!
Wikia is a free-to-use site that makes money from advertising. We have a modified experience for viewers using ad blockers

Wikia is not accessible if you've made further modifications. Remove the custom ad blocker rule(s) and the page will load as expected.