Kne (クネ, Kune) is Pillar General 10 of Behemoth's 34 Pillar Division.
Appearance
Edit
Like all other pillars and pillar heads, Kne is seen wearing a formal coat on top of his dress. In addition to this he is seen wearing a cap and has a tattoo under his left eye. He is also seen smoking at all times.
Personality
Edit
He has a laid back personality and underestimates humans. He didn't want to go and fight Oga claiming it was just one human.
Powers & Abilities
Edit
Relationships
Edit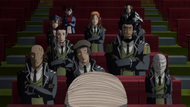 Ad blocker interference detected!
Wikia is a free-to-use site that makes money from advertising. We have a modified experience for viewers using ad blockers

Wikia is not accessible if you've made further modifications. Remove the custom ad blocker rule(s) and the page will load as expected.