Labed (ラベド, Rabedo) is Pillar General 11 of Behemoth's 34 Pillar Division.
Appearance
Edit
Personality
Edit
Akumano Academy Arc
Edit
Return to Ishiyama High School Arc
Edit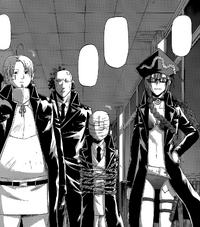 Following a series of disappearances in Behemoth's 34 Pillar Division,[1] an investigative team is sent to the Human World to figure out who is responsible for he matter. Four of the Pillar Generals are sent to resolve the issue: Agiel, Odonel, Labed, and Xoblah.[2]
Labed and the others arrive in the newly-rebuilt Ishiyama High School where they find another Pillar General, Hecadoth, with two young teenagers in a fight. While his fellow Pillar Generals comment on the circumstances, Labed remains silent.[2] Eventually, he and the other members of the investigative team are brought into the fight. One of the teenagers, who is actually a Spell Master, manages to swiftly defeat the four Pillar Generals and he leave them bloodied on the floors.[3][4][5]

Powers & Abilities
Edit
Relationships
Edit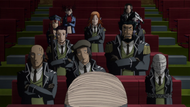 References
Edit
Ad blocker interference detected!
Wikia is a free-to-use site that makes money from advertising. We have a modified experience for viewers using ad blockers

Wikia is not accessible if you've made further modifications. Remove the custom ad blocker rule(s) and the page will load as expected.