Maids Completely Rustling (メイドお騒がせします, Meido osawagase shimau) is episode 34 of the Beelzebub anime.
The festival is underway, and Azusa is trying to run a Maid café. Furuicihi offers to help, and Azusa and her friends obey his commands blindly due to his reputation as 'The Strategist'. Furuichi persuades many of the Red Tails to dress up in Maid uniforms, claiming that this is a preliminary battle against a café that the 6 Holy Knights are running elsewhere. Hilda also gets involved, and remodels the café to be more formal. Some rowdy guests from Teimo High enter the cafe acting unruly, whom Hilda is quick to discipline.
Next episode preview
Edit
Characters in order of appearance
Edit
tatsumi oga 
takayuki furuichi 
hidetora tojo
shintaro natsume
hajime kanzaki
fujisaki azusa
yamamura kazuya
aoi kunieda
hilda
nene omori 
yuka hanazawa
ryoko asuka
chiaki tanimura
shizuka nanami
azusa's other friends
alaindelon 
mitsuteru sakaki
ichiro shinjo
teimo tech group
hiromichi go
tatsuya himekawa
beelzebub iv
hisaya miki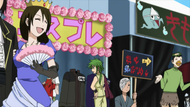 En makes a cameo appearance looking through a clothing booth at the Saint Ishiyama Festival.
Ad blocker interference detected!
Wikia is a free-to-use site that makes money from advertising. We have a modified experience for viewers using ad blockers

Wikia is not accessible if you've made further modifications. Remove the custom ad blocker rule(s) and the page will load as expected.