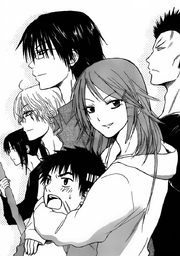 The school of Saint Ishiyama Academy has a force within it that upholds the rules of conduct. They are known as the Six Knights (六騎聖, Rokkisei) (or horsemen). They are six captains of different sports teams and groups/clubs who possess an extraordinary amount of strength and fighting experience.
They have set out to get rid of the Ishiyama High students, as they are unwelcomed by Saint Ishiyama Academy because the school is "allergic" to delinquents, and are backed by an unfair rule that allows them to carry out "judgement" on any person or party within the student body.
The six knights challenged Oga and his friends to a sports competition (after a huge fight on the rooftops of Saint Ishiyama). The wager of the battle was clear: if Oga and his friends won, they would not be expelled. Himekawa also managed to clinch a deal with the teacher in charge of student life, whereby if the six knights lost the competition, they would be stripped of their authority and privileges. In the end, Ishiyama came out on top.
The Rokkisei members are:
Six Holy Knights

Kaname Izuma
Hisaya Miki
Ichirō Shinjō
Shizuka Nanami
Mitsuteru Sakaki
Hiromichi Gō
Ad blocker interference detected!
Wikia is a free-to-use site that makes money from advertising. We have a modified experience for viewers using ad blockers

Wikia is not accessible if you've made further modifications. Remove the custom ad blocker rule(s) and the page will load as expected.