Please note that this is the Beelzebub Wiki's article on the location, if you are looking for the article on the volume then you should head to Saint Ishiyama Academy (volume), if you are looking for the article on the chapter then you should head to Saint Ishiyama Academy (chapter).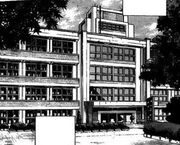 Saint Ishiyama Academy (聖石矢魔学園, Sento Ishiyama gakuen) is the sister school of Ishiyama High School where Oga and his friends were transferred when the latter was destroyed. They are not welcome however, as the school is unwilling to adopt the delinquents. The group is constantly harassed by the students of the school, but they are not the only problem. The school of Saint Ishiyama Academy has a force within it that upholds the rules of conduct. They are known as the Six Knights (六騎聖 Rokkisei?) (or horsemen). They are six captains of different sports teams and groups/clubs who possess an extraordinary amount of strength and fighting experience. They have set out to get rid of Oga and his friends, and are backed by an unfair rule that allows them to carry out "judgement" on any person or party within the student body. The six knights challenged Oga and his friends to a sports competition (after a huge fight on the rooftops of Saint Ishiyama). The wager of the battle was clear: if Oga and his friends won, they would not be expelled. Himekawa also managed to clinch a deal with the teacher in charge of student life, whereby if the six knights lost the competition they would be stripped of their authority and privileges. In the end, Ishiyama came out on top.
Students and Atmosphere
Edit
Saint Ishiyama Academy students is widely known for having the most college entrances. Students are extremely intelligent. St. Ishiyama's students hates delinquents and believes that all delinquents should die. Some students are so serious about delinquents dying that 3 students tried to kill Shiroyama. During the St. Ishiyama Academy vs Ishiyama High School Volleyball match, they slowly started to respect them and started being thankful to them after saving them from Teimou. This caused the students to slowly approach and open up to Ishiyama's students. The female students started to have a slight crush on Oga and started a Baby Beel fan club.
Ishiyama students
Edit